GIFT CARDS
Shopping for someone else but not sure what to give them?  Give them the gift of choice with a New Beginnings Studio Props gift card.
BUY IT NOW!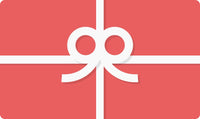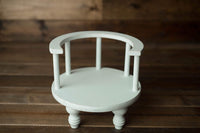 New to the shop! Little chair!
Our newest little chair is just perfect! It can be used for newborns up to age 4 and babies can be posed in a variety of ways.
Buy Now!
Introducing our posing stools!
Our little posing stools are just perfect!!!
Gorgeous image by Krystal Covington Photography.
Buy it Now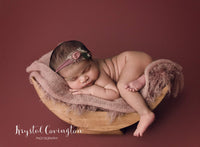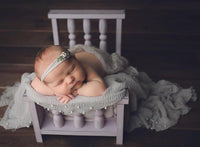 One of our favorite props!
Our spindle bed is one of our best selling beds. Pictured is the blush lilac.
Photo credit: Krystal Covington Photography
Buy it Now
Our Greggy bed
Perfect size and so easy to pose. Great for newer photographers. The color of this one is espresso.
Photo Credit: TS Loves Photography
Buy it Now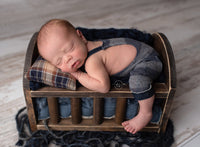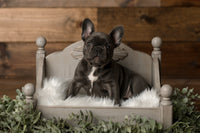 Our beds make great dog beds! This is our Tracy Elaine day bed.
 Adorable image compliments of Krystal Covington Photography
Buy It Now
Testimonials
 Mar 13, 2019

5 out of 5 stars

This is one of the most well-made props I've ever purchased. It is a solid piece that was packed and shipped beautifully. The shipping costs are absolutely worth it because you can tell it was thoughtfully made and packed. I will definitely be a repeat customer!

April Cunningham
 Nov 6, 2018

5 out of 5 stars

The picture is beautiful, but the wagon is even more impressive in person. Such gorgeous craftmanship in every little detail from the woodwork, to the paint, to the way the item was packaged and shipped... and down to the very note with instructions placed perfectly inside of the box. And as if that wasn't enough... the entire process from start to finish was a breeze and extremely pleasant. I look forward to doing business with you again in the near future!! Thank you so much!

Sincerely,
A Very Happy Customer

Lauren Demouth
 Apr 1, 2019

5 out of 5 stars

Love my new cream color heart bowl...it's beautiful & I can't wait to use it in a session!
The heart bowl arrived extremely fast & was professionally packaged with great care & greatly appreciated ! I also received wonderful communication & customer service from this shop. A+ Etsy shop & I highly recommend ! ❤❤❤

Marianne
 Sep 25, 2018

5 out of 5 stars

Just received my BEAUTIFUL new custom newborn bed prop from New Beginnings and I'm jumping up and down, I LOVE LOVE LOVE IT!!! Nina is such a considerate, responsive and accommodating Seller. Answering dozens of questions and customizing the length to suit my needs. The craftsmanship of this bed is super sturdy and flawless. It arrived quickly and packed with extra care to ensure no damage. Could not be happier with it and really looking forward to using it with my Newborns! I will definitely keep coming back for more colors and different designs. THANK YOU NINA!! 😍

Stell Shots Photos
 Jul 31, 2018

5 out of 5 stars

This little bed is very well crafted and arrived to me wrapped up so no damage would occur at all!! Seriously, the packaging for shipping was impeccable. This bed is beautiful and exactly what I was looking for. Can't wait to use it for some super adorable newborn pics of my soon to arrive son.

Ryann Tierney
 Jul 9, 2019

5 out of 5 stars

Great bowl! Super fasting shipping and I received it in time for my session today!

Heather Pszwaro
 Jun 8, 2019

5 out of 5 stars

This bowl is beautiful and exactly what I wanted. It shipped really fast, ordered on Saturday and received it on Wednesday. A lot of care went into the packaging of the bowl too. So happy with my purchase!

Patti
 Mar 16, 2019

5 out of 5 stars

Excellent quality. Very nicely made. Sturdy and shipped out as promised. Would highly recommend this seller!

Maria Gardella
March 21, 2022

5 out of 5 stars

The quality and craftsmanship are superb! By far this purchase has been the best prop purchase I have ever made. The detail and time that went into making these props are clearly evident once you see one and have one in your own hands. You can feel the quality. Other props I purchased have very harsh fininishes and rough edges......however, the finishes on these props are so well created it's comparable to some of my high-end furniture in my own home. I highly recommend! Once you see and feel your own prop, you won't buy from any other store. 100% recommend!!!!

Tiffany